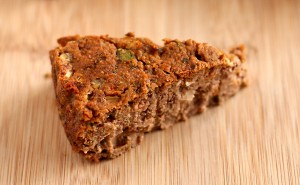 Our dear friend Robi has a brilliant talent in the kitchen even when it comes to vegetarian dishes.
Ingredients
60 g walnuts
60 g peanuts (cleaned)
60 g almonds
70 g cashew nuts
1 large onion
1 small clove garlic
400 g tomatoes
2 tbsp flax seeds
130 g chickpeas (canned)
1 tbsp tahini – Donum Terrae Sesame seed butter
2-3 tbsp nutritional yeast
1 tsp fresh thyme leaves
2 tsp fresh sage leaves
0.5 tsp fresh mint leaves
1 tsp fresh parsley leaves
1 tsp mustard
1 tsp lemon juice
freshly ground black pepper
salt
vegetable oil
Instructions
For the nuts
Blanch the almonds. Remove and discard their skins. Remove the paper-thin hulls from the peanuts. Cover a grid with parchment paper and add the nuts. Roast in a pan or skillet – or in a 200°C / 390 F hot oven until the nuts are nicely browned. Remove and chill to room temperature. Remove the bitter hulls from the walnuts. Blend the roasted nuts.
For the tomatoes
Blanch and peel the tomatoes. Half the tomatoes and remove their seeds. Chop the tomatoes and drain in a sieve. Add the reserved liquid with the tomato seeds to a small pan and warm over low heat.
For the "egg replacer"
Grind the flax seeds to a fine powder. Blend the drained chickpeas with 1 tbsp tahini, 2 tbsp ground flax seeds, 2-3 tbsp nutritional yeast and the warmed tomato seeds and liquid to a fine puree.
For the cakes
Finely chop the onion, garlic and the herbs.
Add the nuts, herbs, tomato, onion, garlic, mustard, lemon juice and the chickpea puree to a large bowl and mix well. Season with salt and pepper.
Grease a cake tin of 20 cm diameter with vegetable oil, line with parchment paper and grease the parchment with vegetable oil too. It's easier to grease by using an oil spray. Transfer the cake mixture to the tin and level with a spoon. Bake at 180°C / 355 F in the oven for 45 minutes. If the cake has nicely browned, remove it from the oven and chill for some minutes. It's easier to slice the cake when it's not piping hot.
To serve
Slices and serve cold or hot with a salad or a salsa of your choice.