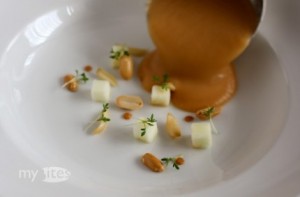 A nice and creamy vegan soup, yamm! From Robi
Ingredients
250 g rutabaga
1 apple, sour
1/2 lemon
1 thin slice fresh ginger
500 ml vegetable stock
6-8 small cloves garlic
50 ml apple juice, cloudy
6-8 peanuts
cress
1 tsp apricot vinegar
2-3 drops chili oil
freshly grated nutmeg
salt
sunflower oil
Instructions
For the garlic confit
Put the garlic cloves with their skin on in a small pan and add enough oil to cover the cloves completely. Cook over low heat until the garlic is tender. Remove from the heat and chill. Drain and carefully remove the skins from the cloves.
For the apple cubes
Wash, peel and remove the core from the apple. Cut the apple in 1cm cubes and submerge in lemon juice water. Cover with clingfilm and refrigerate.
For the soup
Chop the remaining apple leftovers and the peeled rutabaga. Add to a pot with 1 thin slice fresh ginger and vegetable stock. Cook over low heat until very tender. When the rutabaga is very soft, remove and discard the ginger. Blend the soup with 1 tsp peanut butter and press through a fine sieve. Season with salt, freshly grated nutmeg, 2-3 drops chili oil and some vinegar.
To serve
Clean the peanuts. Mix the peanut butter with some apple juice to make it less solid.
Add drained apple cubes, garlic confit, peanut butter and peanuts on warm plates and decorate with cress. Pour the hot soup over the garnish at the table.